CPR and First Aid Training... for Scouts and Scouters!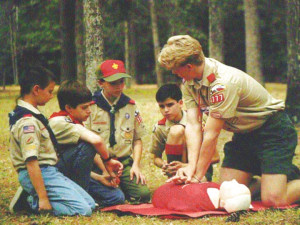 The American Red Cross has adopted a component system for teaching the CPR and First Aid classes. We use the features of this program to offer a better balance of basic level training. This approach offers those who have taken the class previously an opportunity to take additional training. Scouts working on Merit Badge requirements will also like the new format.
The morning session covers the Responding to Emergencies and Adult CPR components. The CPR skills will be taught following the American Red Cross Community Training outline. The videos show realistic scenarios and the class emphasis is on accident prevention.
Participants have two options for the afternoon session: Merit Badge Basics for Scouts wanting to complete the First Aid merit badge requirements and When Help is Delayed for older Scouts and adults who want to learn additional procedures when professional help is not readily available. Both classes also include the First Aid Basics component.
You do not need to decide in advance which afternoon module you want to take. First time Scouts working on merit badge requirements are encouraged to take the Merit Badge Basics option. We may have to cancel or modify the afternoon component offerings to meet the needs of the class. We do intend to make both options available at all scheduled basic level classes.
Please remember that advance reservations are required. The scheduled classes fill up fast. Check the Schedule page for current classes. Registration forms are available at the George Strake District Roundtable and can be down loaded from the "Resources" web page. Also check the FAQ page for more information.
Get Trained... Keep your training current!
Your Adult CPR card is valid for one year...
Your First Aid Basics card is valid for three years...
Questions?... just email us! CPR training@scoutcpr.org